The most popular search terms used by the public to find urgent care services are "Urgent Care Near Me" and simply "Urgent Care". Most urgent care centers have stopped using Google AdWords to acquire new patients but if urgent care centers are not paying for these Search Terms – who is?
Check it out and search on these yourself. You will find that companies offering online care are paying for these search terms. These companies include Amwell, Callondoc, Heydoctor, K Health, MDLive, PlushCare, and Teladoc Health. These online care companies have a mission to acquire and retain clients.
We believe that the number of searches for a product or service reflects the demand for said products or services.
We wanted to compare the trend in demand for online care verses urgent care.  We are not attempting to measure demand but identify trends.  We start by considering the total of the searches per month for three popular search terms for online care.  These are Dr Online, Online Doctor, and Online Doctor Visit.   The trend for the last 3 years is below.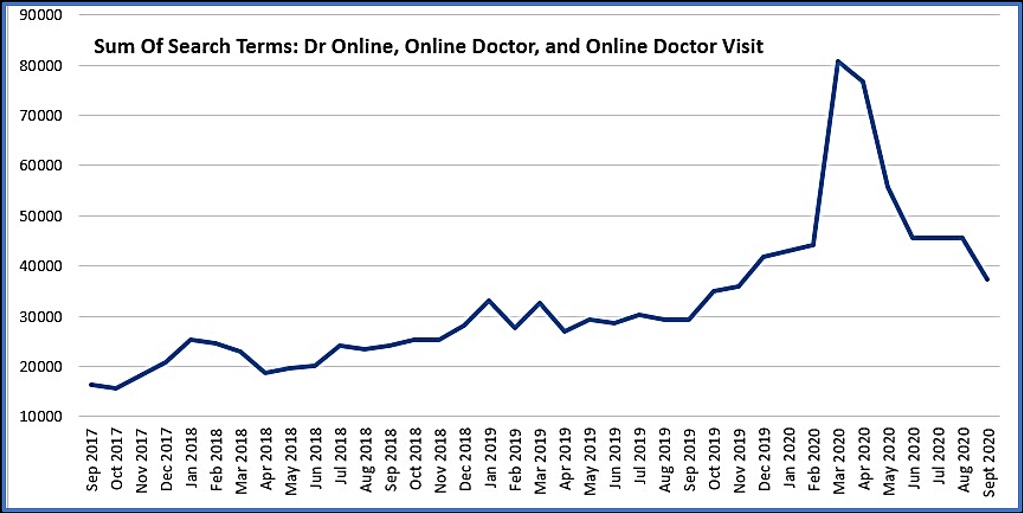 Let's back-up and explain that what you enter in Google when you search for anything is called a search term and Google keeps a history of every search and by location. The number of searches for a search term over time show a trend. Trends can be growth, decline, seasonal demand, or event driven like COVID.
Observations in the above graph:
The market demand for online care has been growing.
The market demand began to spike in February 2020 but came back down in June 2020.
We were surprised to see how quickly, after the spike, that the demand fell
The trend above suggests that the demand is now at pre-COVID levels.
The most popular Search Terms for urgent care services are "Urgent Care Near Me" and "Urgent Care".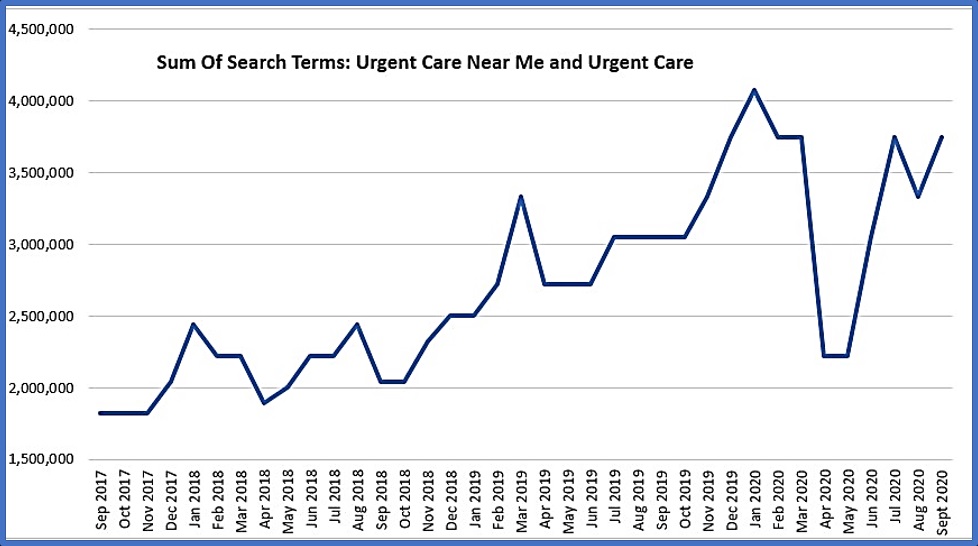 Observations in the above graph:
Market demand has been growing.
The market demand, due to COVID, began to tank in March 2020 but went back up in June 2020.
The trend above suggests that the demand is now above pre-COVID levels
Obviously, the online care companies in February were overwhelmed with the demand spike for online care, as the first graph above shows. When the spike came down in June for online care search terms the online care companies targeted urgent care search terms. As of October, they are still targeting urgent care search terms. Urgent care centers, prior to COVID, dominated AdWords for search terms like "Urgent Care Near Me" and "Urgent Care" but now those terms are dominated by the online care companies.
AdWords is not shotgun random marketing but very controlled, measured, and managed. You start by testing and continue to spend on AdWords when it works and you stop when it doesn't. The fact that online care companies are still spending suggests that it is working for them. This is in spite of the probability that many people search for "urgent care" are also searching for COVID testing.
Online care companies are building their client base from many people who would traditionally use urgent care centers. Urgent care centers have the advantage if they offer both in-person care and online care. Ultimately, urgent care centers will need to use AdWords again.
QUESTION: When can/should urgent care centers use AdWords again? The demand for urgent care dramatically slowed when the nation stayed at home. Good or bad, we are going back to work, to school, playing sports, traveling, and going out. There will be a growing need for urgent care, as the search history shows.
We cannot say that AdWords will be profitable but we can suggest that since online care companies continue to target urgent care search terms then it is stands to reason that doing so is profitable for them.
ANNOUNCEMENT
For those urgent care centers that want to test, evaluate, or use AdWords, we will set-up and manage your AdWords account at no charge for 4 months.